Enjoy this line up of Venison Recipes for Superbowl Sunday! When it comes to the big game, there are two things that people are most interested in. For many, it's the game first. But for foodies like me, it's always about the food! And, for hunters and game meat lovers alike, its always a great thing if there are venison recipes to enjoy during the big game!
Venison Appetizers and Finger Food
If you ask me, Superbowl parties are THE party to take your appetizers to. Everyone loves to hang out with platefuls of food, and when it is an appetizer, you can have a little bit of it all! Below are some of our favorite venison appetizers to serve.
Bacon Wrapped Venison Appetizers are pieces of venison, cheese, and jalapeno wrapped with bacon and topped with a sugar-free barbecue sauce. Made for keto but something everyone will enjoy!
Bourbon and Butter are a perfect match. Add venison steak and you have Bourbon Butter Venison Steak Bites, something the whole gang is going to love (and want the recipe for! Also, if you have keto friends, these can be easily converted to a low carb recipe.
Out of the ordinary Appetizer Venison recipes
We think every party needs to have stuffed mushrooms. These naturally low carb Sausage Stuffed Mushrooms are full of spicy ground venison and cheese. And, the meaty flavor and texture of the mushroom make this a hearty and satisfying appetizer.
Have you ever had Poutine? I'm sure you've heard of it. It seems that over the last few years, the world has fallen in love with it. I grew up where cheese curd was made locally, and on the day it was made, my parents would always pick up a couple of bags of fresh curd. This Spicy Poutine Potato Skin recipe is something unique to serve your guests.
I first made these Venison Pot Stickers years ago, and I have never forgotten how delicious these were. I loved taking ground venison and giving it an Asian flair. And, this is finger food worth licking your fingers for!
Small bites are where it is at for us. Did you know that small bites, and/or small plates are just another fancy way to name an appetizer portion? Venison Street Tacos are a wee bit fancy themselves with the sweet and spicy strawberry salsa topping.
Venison Chili and Stew
Chili and Stew are always welcome hot dishes at any party. These two are our favorite Venison Recipes for Superbowl parties!
Sometimes you want something just a little different from the red chili everyone else likes to bring. That is when this Venison and White Bean Chili comes into the picture! A little different and a lot of delicious!
Old faithful, Crockpot Venison Stew has been a staple in our home since I first met my husband. I am also informed when I haven't made it in a while and reminded that it's time to do so. This makes a great recipe for game day, keep it in the slow cooker and you can keep this warm for the entire party.
Venison Meatball Recipes
Meatballs are awesome Superbowl recipes, and when they are made with ground venison, they are even more awesome! Below are some ways we love to enjoy Venison meatballs on game day.
These venison meatballs have no carbs, and they are buried in a delicious alfredo sauce. Serve Venison Meatball Alfredo over zucchini noodles, or in a slow cooker on low as appetizers.
These Homemade Venison Meatballs are baked in the oven and then simmered in a pasta sauce and are as close to traditional meatballs you will get. They are also super delicious!
You can also make a pizza (with a keto or non keto crust) and take some of those Alfredo Meatballs and make a Meatball Pizza with Alfredo Sauce!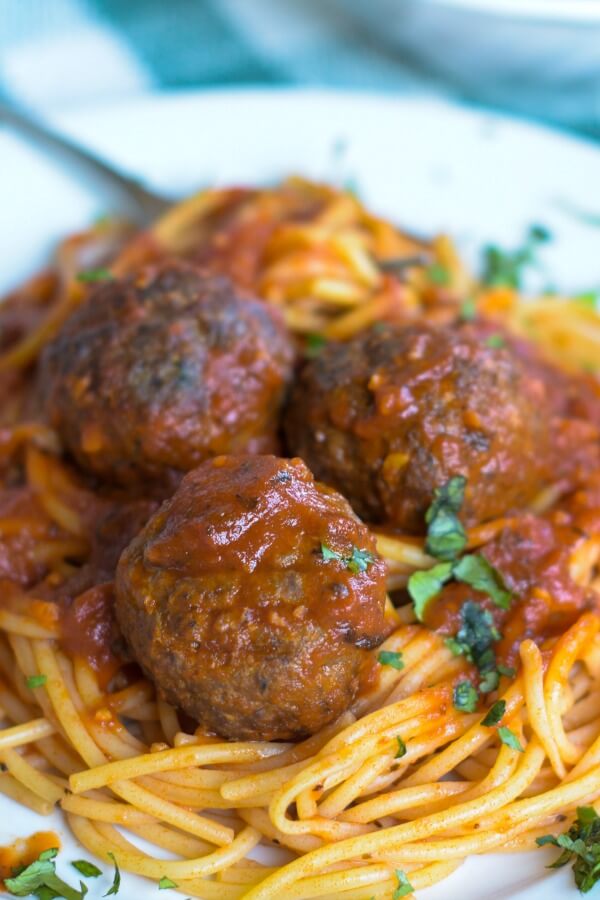 If your crowd likes spicy meatballs, then you will want to give these Spicy Baked Venison Meatballs a try!
Other Venison Recipes for Superbowl
The last two venison recipes I want to share are ones that can be made bite-sized and guarantee will disappear fast!
Venison Caprese Burgers are full of sun-dried tomato deliciousness! These burgers can be made slider-sized with a side of the roasted red pepper sauce on the side.
And last, but not least, these Easy BBQ Cheddar Meatloaves. Not only are these little bites super delicious, but they are also keto-friendly, so you or your friends who have started the keto diet won't suffer when the Superbowl gets here!
More Superbowl Recipe line ups you may like